Operation Teddy Bear Revisited
Watson's Blog
Operation Teddy Bear Revisited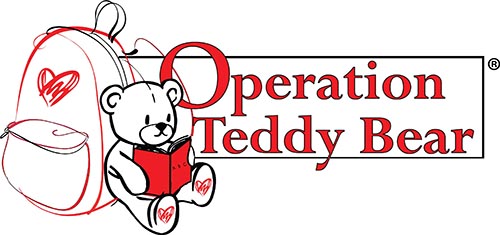 Earlier this year, employees of Watson Land Company came together with Operation Teddy Bear to visit Dominguez Elementary School. Operation Teddy Bear is a literacy program that donates backpacks filled with school supplies and a teddy bear to thousands of first-graders within underprivileged schools throughout Los Angeles County.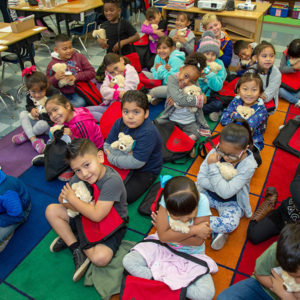 More than 80% of the enrolled students in the Los Angeles Unified School District live at or below the poverty line. Many of these students come to school for the day lacking sufficient educational supplies, clothes, and food. As a consequence, their education, literacy, and self-confidence are impacted, and it is tougher for them to learn and excel.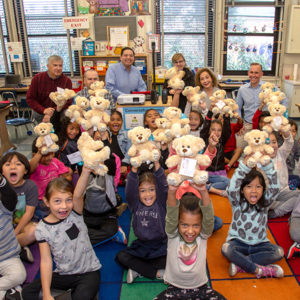 Operation Teddy Bear assists in addressing this concern by contributing literacy backpacks to 5,600 children in Title One schools. Funded completely by donations from individuals, companies, and foundations, the program takes place every year and every backpack has a fun, colorful design and includes necessary items such as reading books, flash cards, workbooks, activity books, crayons, coloring books, learning clocks, rulers, card games, and even a toothbrush. A plush teddy bear is also incorporated, which the kids really cherish.
Teachers also get boxes with crayons, flash cards, workbooks, glue sticks, student achievement certificates, stickers, and pencils.
Among those who participated in the day were Trini Jimenez, Vice President of Public Affairs; Lance Ryan, Executive Vice President, Chief Operating Officer; Chris Trujillo, Vice President of Construction; Mike Bodlovich, Director of Marketing & Leasing; Debbie Peterson, Property Management Accountant; and Maria Flores, Public Affairs Coordinator.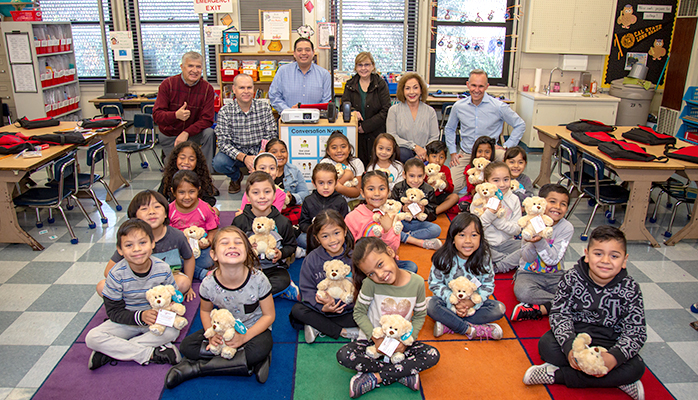 As the backpacks were delivered to the classroom, Watson Land Company employees also took the time to sit and read stories to the children. It was an amazing day of connection and enjoyment, from the volunteers and our staff members at Watson to the teachers and the children. The kids had a great day. The smiles on their faces and the pride they felt as they carried their backpacks full of school supplies were priceless memories for all who participated.
"Watson Land Company is a longtime supporter of Operation Teddy Bear and the local community – they generously support a number of schools in Carson through their own programs and our partnership!

We joined them to visit the Dominguez Elementary STEAM Academy and Dual Language Program again this year for Operation Teddy Bear, and it was so special to watch the real connections their employee volunteers make with the first graders when they interact with them in the classrooms, teaching the program's signature lesson about kindness, compassion, volunteering and identifying emotions.


A huge thank you to Watson Land Company for being such a champion in the local community AND for being among the first corporations to support our new, all-encompassing Engaging Hearts and Minds program this year! Your support of local children and families in our community is invaluable and we are so grateful," a statement from The Volunteer Center read.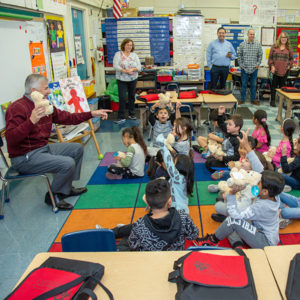 It's not hard to see why our employees are so enthusiastic and devoted to these causes. As a major supporter of the center and Operation Teddy Bear, these events are important to our team and promote what Watson is all about: community. We also believe having access to education is an important step in building a brighter future, and it's an opportunity all children deserve.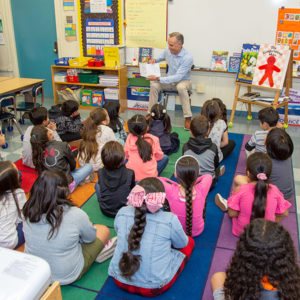 Giving back to the community not only makes a positive impact in the lives of others, it also gives Watson Land Company employees a chance to experience the fulfillment that comes with charitable activities. As a company that values community involvement, we always strive to build collaborative and inspired teams. We want those who work with us to feel proud of our contributions and the values we believe in. Participating in events like Operation Teddy Bear makes everyone happy.
If you would like more information about how you can get your organization involved in Operation Teddy Bear, please visit https://www.volcenter.org/operation-teddy-bear.