Chino — Logistics Capital of the Inland Empire
Watson's Blog
Chino — Logistics Capital of the Inland Empire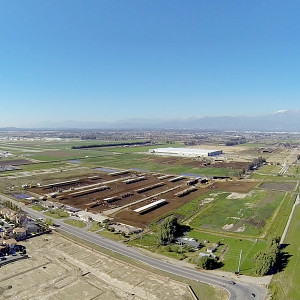 For generations, Chino has served as an agricultural hub for the southwestern states. Known for its rich dairy farms and fertile fields, Chino has long been associated with hard-working farmers, along with the lingering aroma of cattle. But as California's rural areas are increasingly developed to meet the needs of families with new housing, retail and business facilities, Chino's fields and farms are giving way to housing tracts, shopping centers and industrial distribution parks.
However, Chino is transitioning into much more than just another industrial hub. Thanks to its locational advantages, it is poised to become the logistics capital of the Inland Empire.
An Unrivaled Strategic Gem
Situated in the heart of Southern California, Chino has close proximity to the Los Angeles and Long Beach Ports and freeways, low shipping costs, and access to major markets providing numerous strategic benefits for businesses looking for a distribution center or a West Coast supply chain facility.
But what does the shift toward distribution uses mean for the families and citizens of Chino who are proud of their city's agricultural heritage? How will the upcoming changes impact the city's future?
Improving Chino's Quality of Life
The answer is simple: Positively. Chino is in the midst of a growth cycle that will improve the city's economy and infrastructure in long-lasting, far-reaching ways.
As new distribution centers and business centers are built, Chino's infrastructure is being modernized to meet these demands. These improvements directly benefit Chino's permanent residents and existing businesses by providing safer roads, more reliable utilities, cleaner sewer systems, and an expanded water supply.
For example, at Watson Land Company's 5.1 million square foot master-planned industrial park, $35 million will be spent building and improving roads, utility, and sewer systems, while another $10 million will be spent expanding water distribution systems.
Fueling Chino's Economy
Watson Industrial Park Chino's eleven buildings are projected to create 1,500 job opportunities in Chino. With an outstanding labor pool to draw from, tenants of the industrial park will turn to Chino residents to fill those positions. More jobs fuel the city's economy and give hard-working men and women the means to provide for their families while eliminating the need for a long daily commute. As the city's reputation as the IE's logistic capital grows, so too will the demand for distribution centers and industrial facilities, which will mean more and more jobs for Chino citizens.
Conscientious Beautification
The shift from agriculture to industry does not have to mean unsightly rows of concrete buildings and vast slabs of asphalt in lieu of Chino's abundant fields. Conscientious developers know landscape design is an important, carefully considered aspect of any industrial complex or business park. Consider Watson Industrial Park Chino: The mature oak trees planted at this master-planned center have been hand-selected for their unique composition to add natural beauty to the development, which will naturally beautify the city and pay tribute to its rural heritage.
A Successful Heritage, A Prosperous Future
As Chino transitions from an agricultural hub to the logistics capital of the IE, residents and businesses alike will experience the benefits of an expanding economy and infrastructure. Chino's heritage will always be proudly honored, even as the city moves toward a prosperous future, integrating the needs of its residents and businesses.
Chino's enormous logistical benefits make it the obvious place to call home. For more information on making Chino your logistics headquarters please visit watsonchino.com.