Watson Land Company Names Jeffrey Jennison As Chief Executive Officer
News Releases
Watson Land Company Names Jeffrey Jennison As Chief Executive Officer
Three Year Succession Transition Culminates with Retirement of Departing CEO Bruce Choate
Los Angeles, California – Watson Land Company (Watson), one of the nation's premier developers and owners of masterplanned industrial real estate, today publicly announced the appointment of Jeffrey Jennison as the company's new Chief Executive Officer. Jennison has served as Watson's president since 2014. The announcement completes a three-year succession transition leading to the retirement in March 2017 of real estate industry veteran Bruce Choate, Watson's CEO since 2003.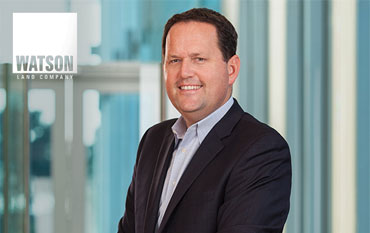 It's an honor to have the privilege of serving the customers and shareholders of Watson Land Company as Chief Executive Officer," says Jennison. "After working closely with Bruce Choate for more than a decade, I have a tremendous respect for the vision and steadfast commitment to quality he instilled in the Watson culture during his tenure as CEO. I look forward to honoring this institutional legacy as we continue forward into the next era of the company's growth and expansion."

Jennison assumes his new role as President and CEO with more than 17 years of experience as a senior leader at Watson. Since 2000, he has risen through the ranks after joining the Company as vice president of Asset Management and becoming Chief Operating Officer in 2013. Jennison was named President shortly thereafter, and succession planning for the orderly transition to his new role as Chief Executive Officer began in 2014 in collaboration with Choate.

"The Board of Directors and the shareholders we represent look forward to working with Jeff as we continue forward with the commitment to quality that has made Watson Land Company a leader in development and operation of industrial masterplanned centers," said Robert W. Huston, Watson's Chairman. "It's important to note that the Board has spent the past three years in collaboration with Jeff, Bruce and the entire Watson executive team on leadership succession. Together, we have established a strategic vision that honors our legacy while charting a clear path to future growth."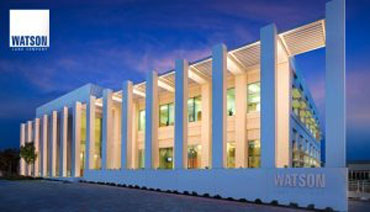 Watson is a brand built on a legacy of commitment," added Jennison. "Our commitment to our customers. Our commitment to quality development and sustainability. Our commitment to California, the communities we work in and our commitment to future expansion with our customers on the West Coast and East Coast. My personal commitment is to lead Watson forward in an era of growth and expansion, while maintaining our focus on customer service, stability, building quality, and attention to detail. These organizational imperatives are the keys to our nearly 60 years of success."

Jennison's new position as president and CEO gives him responsibility for the entirety of Watson's portfolio and operations: from new development and investment to property management and tenant relations. Watson currently owns and operates 20 million square feet of masterplanned industrial real estate properties in key Southern California and East Coast markets. The company's signature developments now encompass more than 1,700 acres located in Carson, Chino, Fontana and Redlands in Southern California; and Lehigh Valley in Pennsylvania. According to Jennison, as Watson's CEO he will focus the company on the following commitments:

•Southern California: Watson launched in Southern California in 1963, and still owns and operates the majority of its portfolio holdings near the Ports of Los Angeles in Carson, Calif., and in the nearby submarkets of the Inland Empire. The company continues to develop new properties in its masterplanned development sites, and will continue to pursue new land and property acquisitions in Southern California markets meeting its long-term investment goals.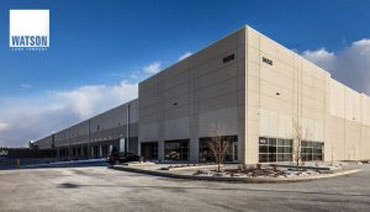 •East Coast: Watson expanded its interests to Pennsylvania's Lehigh Valley to serve the needs of its growing tenant customer base in the logistics sector. The company is committed to identifying similar investment opportunities in Eastern seaboard markets meeting the company's strict investment criteria; and will continue to expand its holdings of existing Class A industrial property assets or new development opportunities in markets exhibiting appropriate attributes including logistics efficiencies, high barriers to entry and stable industries.

•Sustainability: Watson began to incorporate the U.S. Green Building Council's LEED standards into the company's new development projects as early as 2005. The company continues to lead the industrial commercial real estate industry in sustainable development, redevelopment and management practices and ultra-efficient property design focused on reducing overhead for customers.

•Spec to Suit: Watson is a leader in developing industrial real estate that anticipates and meets the needs of its core customers from the logistics and manufacturing sectors. From Foreign Trade Zone designations and Over Weight Corridor properties to 36-foot clear heights and LEED Certification, Watson develops and operates real estate that anticipates the needs of its customers and provides real solutions for operational efficiencies that create lasting value.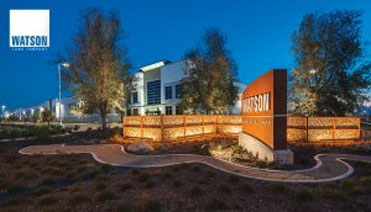 •Expansion: Watson continues to expand both its holdings in existing markets and geographic footprint across the nation. The company will continue to acquire high-quality existing assets and land for new development in markets that meet its strict investment criteria. The company's strong balance sheet is stabilized to withstand the ebb and flow of market cycles and provide certainty of execution when an investment opportunity is identified.

According to Jennison, the certitude of his vision for Watson comes from the strategic planning process that ensured an orderly transition and clear direction for the company moving forward. Reflecting on Choate's legacy and his nearly 26 years of service to Watson, Jennison had only kind words. "Bruce was a strong leader and true mentor to me and many other Watson executives during his tenure. I look forward to working with him in the years to come as a key advisor and member of our Board of Directors. His accomplishments are many, his counsel respected and his legacy in real estate secured."